To tie in with the ongoing efforts to curtail the spread of the COVID-19 virus, the LCSD announced yesterday (28 February) that their hockey facilities will continue to be temporarily closed until further notice.

All HKHA league matches shall be postponed. Hockey activities, training courses and programmes will be suspended until further notice. We are working with LCSD for alternatives. Announcements will be made once we have confirmed the arrangements.

The HKHA will continue to monitor the situation closely and review the arrangements in a timely manner.
HKHAWS Premier Division 5-a-side Tournament 2020 is happening tomorrow, Jan 11!


Come support the teams! You can see the fixtures of tournament here


HKHAWS Premier Division 5-a-side Tournament Fixture
The Guru Nanak Hockey Tournament 2019 were successfully held on 15 Dec 2019 at King's Park Hockey Ground.
Congratulations to all the winning teams!
| | |
| --- | --- |
| Cup | |
| Champions | Khalsa A |
| 1st Runners-up | SSSC A |
| 2nd Runners-up | HKFC A |
| | |
| Plate | |
| Champions | SSSC B |
| 1st Runners-up | NBC A |
| 2nd Runners-up | Khalsa B |
The Hong Kong Hockey Association wishes to congratulate Miss Kitty YAU and Mr Alfred CHAN for their official appointments by AHF and FIH. as follows:
Ms Kitty YAU
30th South East Asian Games Philippines 2019 – Indoor Hockey Competition
Date: 4-10 December 2019
- Umpire Manager
Mr Alfred CHAN
1) FIH Pro League - Perth (4 matches)
Date: 6-7 March 2020
- Match Manager
2) Tokyo Olympic Games 2020
Date: 21 July - 8 Aug 2020
- Technical Officer
The Hong Kong Hockey Association will be doing adult course at Lai Chi Kok Park in the end of December this year, participants can learn more about hockey skills, enjoy the fun of this team sport, improve lower body strength and balance.

To join, Download application form or Apply Online

為了讓輪班工作/彈性上班及已退休人士能夠學習曲棍球控球技巧、享受隊制運動的樂趣和鍛練下肢肌肉及平衡力,曲棍球總會將於12月底在荔枝角公園新增曲棍球課程,為有興趣人士提供指導。
Improve your lower body strength and balance at these morning classes. Enjoy the outdoor openness and make new friends in this team sport, whether you have to work or not, one of these courses will fit your schedule. Just $20 for each lesson of 1.5hrs.

To join, Download application form or Apply Online

參加早晨曲棍球訓練班,享受球場舒坦的空間,透過這項隊制運動,鍛練下肢肌肉和平衡。無論你需要上班或已退休,可選擇適合你的時間表的班別。每堂1.5小時只需$20。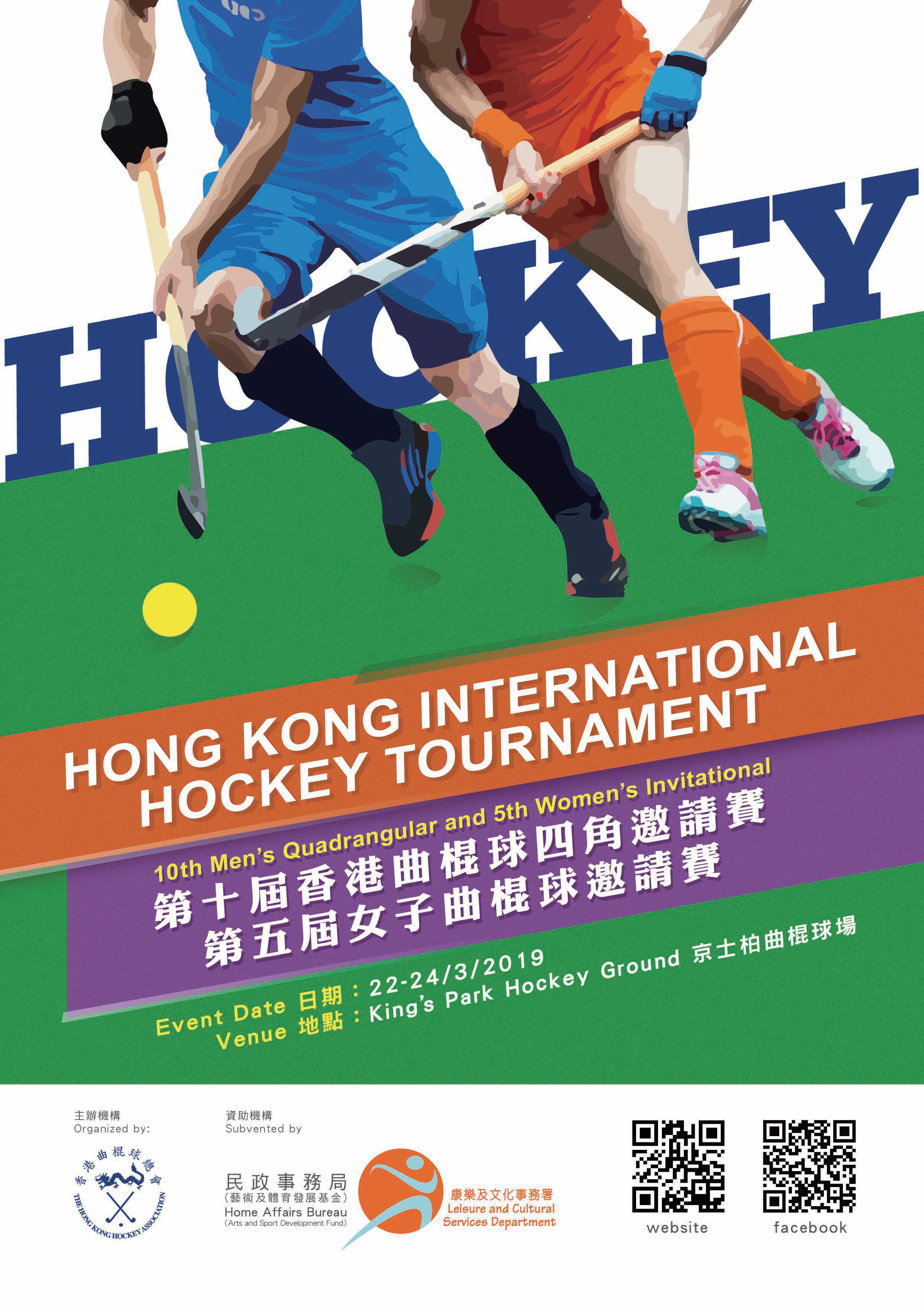 Event Calendar


| S | M | T | W | T | F | S |
| --- | --- | --- | --- | --- | --- | --- |
| | | | | | 1 | 2 |
| 3 | 4 | 5 | 6 | 7 | 8 | 9 |
| 10 | 11 | 12 | 13 | 14 | 15 | 16 |
| 17 | 18 | 19 | 20 | 21 | 22 | 23 |
| 24 | 25 | 26 | 27 | 28 | 29 | 30 |
| 31 | | | | | | |
Men's Premier Division Top 5
| | Team | Pld | Pts |
| --- | --- | --- | --- |
| 1 | Khalsa A | 8 | 21 |
| 2 | HKFC A | 8 | 21 |
| 3 | KNS A | 7 | 18 |
| 4 | SSSC A | 7 | 15 |
| 5 | KCC A | 8 | 9 |
Women's Premier Division Top 5
| | Team | Pld | Pts |
| --- | --- | --- | --- |
| 1 | HKFC A | 9 | 27 |
| 2 | Valley A | 8 | 21 |
| 3 | Coyotez | 8 | 19 |
| 4 | HKFC B | 9 | 16 |
| 5 | HKCC A | 9 | 10 |