The Hongkong Post wil issue a set of special stamps on the theme of "Sports in Hong Kong" in 2015 and has launched an internet voting of "My Favourite Sports" via the following links:
Chinese
https://app1.hongkongpost.hk/SSL/survey/c_survey_201401.jsp
English
https://app1.hongkongpost.hk/SSL/survey/e_survey_201401.jsp
This is to appeal for your voting of your favouite sports and "Field Hockey" on item 31. The voting period will last until March 14th, and the voting result and stamps desgin will be announched in September 2014.
In preparation for the Asian Games Women's Qualification Tournament (to be held in Bangkok from February 14th to 23rd), the Hong Kong Women's National Squad went to Taiwan last weekend for training. The squad of 23 played two games with Chinese Taipei team on Saturday and Sunday, drawing 0:0 and 1:1 respectively. The final squad will be announced based on attendance, fitness and competitive skills shown in training sessions.

The upcoming 1st Hong Kong International Mini Hockey Tournament will be held on 29th December 2013 (Sunday). This will be for U8, U10, U12 and U15 Boys & U15 Girls age groups.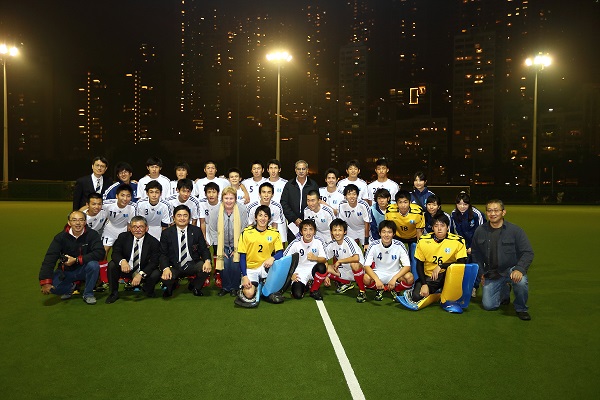 Keio University concluded their Hong Kong tour after three very competitive matches with their Hong Kong hosts. The young Japanese students played modern style fast hockey which delighted the crowd from local and overseas. A total of 24 goals was scored in the three matches with results as follows. We look forward to continuing our friendship with Keio University in the years to come.
12 Dec - Khalsa 7-5 Keio
13 Dec - Valley 3-4 Keio
14 Dec - HKFC 3-2 Keio
The Association is pleased to announce that our Hong Kong umpire George Lam has received his international badge from FIH today. Many congratulations!
Japan Grand Masters
Hong Kong Senior Masters
Japan Grand Masters and Hong Kong Senior Masters emerged victors in the just concluded Masters Hockey Asian Cup held in Hong Kong from 29 October to 3 November 2013. Japan secured the 2nd Grand Masters Hockey Asian Cup title with convincing wins over Hong Kong, Malaysia (defending champions) and Korea in the Grand Masters category (minimum age 60).
The Hong Kong Seniors Masters did the host city proud by winning the inaugural Senior Masters tournament (minimum age 50). Hong Kong defeated Singapore 5-1 in the opening match. They then drew 3-3 against a formidable Malaysia side. In the final game, Hong Kong ran away with the title by blanking Korea 11-1.
In both categories, the pre-tournament favourites, Malaysia, had to settle for runner-up berths.
Hong Kong Junior Squad (U15 Boys) takes home the Bronze medal with a 6-1 victory over Beijing He Yi (北京和義) at the 5th Youth Hockey International Championships 2013 (U15) in Yangzhong, China.
| | |
| --- | --- |
| Hong Kong Women to Play against Teams from China | |
| Three teams from China will play in a quadrangular invitational tournament with Hong Kong from August 29th to 31st in the King's Park Hockey Ground. | |
| China ranks number one in Asian women hockey while Jilin, Jiangsu and Guangzhou are the leading provincial sides in China. In this 2nd Invitational Tournament, Hong Kong is to play the teams of these top forces in China in preparation for the Asia Cup in September and the East Asian Games in October. | |
Hong Kong Junior Team (U15) left HK this morning to Yangzhong in participating the 5th Youth Hockey International Championships there between 22nd-26th August, 2013.
Organized by Hong Kong Hockey Association & Subvented by Leisure and Cultural Services Department, the Adult Hockey Training Course 2013/2014 will start in September.
Application Form (QUOTA FULL)
The Junior Hockey Promotion Scheme 2013/2014 is now open enrollment. There are 5 phases in the scheme which covers different hockey skills for beginner, intermediate and advanced levels for students. Afterwards the students will take challenge of a 9-a-side tournament and a summer workshop. Capacity is limited and so act now. Attached herewith the course schedule and application form.
Men's Premier Division Top 5
| | Team | Pld | Pts |
| --- | --- | --- | --- |
| 1 | Khalsa A | 11 | 29 |
| 2 | Punjab A | 11 | 29 |
| 3 | HKFC A | 11 | 28 |
| 4 | Valley A | 11 | 22 |
| 5 | Shaheen A | 11 | 21 |
Women's Premier Division Top 5
| | Team | Pld | Pts |
| --- | --- | --- | --- |
| 1 | HKFC A | 9 | 21 |
| 2 | Valley A | 9 | 20 |
| 3 | KCC A | 9 | 19 |
| 4 | Shaheen A | 7 | 13 |
| 5 | HKFC B | 9 | 13 |