Please be informed that the captioned Beginner's Course will be held on the mentioned dates below :-
Please read the details below carefully.
The course will be split into 2 sections
- 10th Nov, 19:00 - 22:00 at King's Park Conference Room (2/F) [Rules Talk] *FULL

- 17th Nov, 19:00 - 22:00 at King's Park Conference Room (2/F) [Rules Talk + Written Test] *FULL

- People MUST register online to attend in advance, here is the registration page:
http://hkhaus.mavista.com:8080/mavista/cms/en/courses
- Only people who have attended BOTH rules talk will be allow to take the written test on the 17th Nov.
- The written test will be in English with 20 multiple choices questions and must be completed within 30 minutes.
- People who passed the written test (18/20 or above) will be allowed to be register as TP (Theory Passed) with a registration fee of $200.
- TP will be assigned for field assessment within the season (first come first served basis), if passed, they will be given an Umpire Number and an Umpire Shirt.
The Hong Kong Grand Masters Team will be heading for Kuala Lumpur later this week for the 3rd Grand Masters Hockey Asian Cup. The Hong Kong team will play matches against host Malaysia, Korea, Singapore and defending champions Japan. Held in conjunction with the Asian event will be the Pacific Rim SAS Cup featuring Scotland, England, Egypt, Alliance and, from Australia, Southern Cross "A" and Southern Cross "B".
Team Manager/Player, Sarinder Dillon, had this to say. "We are looking forward to the event, which is held every two years for those aged 60 or over. Plus we will have a few "youngsters" several years down the line to do the hard work. It will be a wonderful week of hockey and catching up with old hockey friends from other parts of the world. The HKHA and I are grateful to Mr. Ahmed Khan (Action Sports Foundation) and Ms. Kitty Yau (Arissa Hockey) for their support and sponsorship of team uniform.
Congratulations to SSSC A, the winners of the Premier Challenge, the opener of the new season 2015/16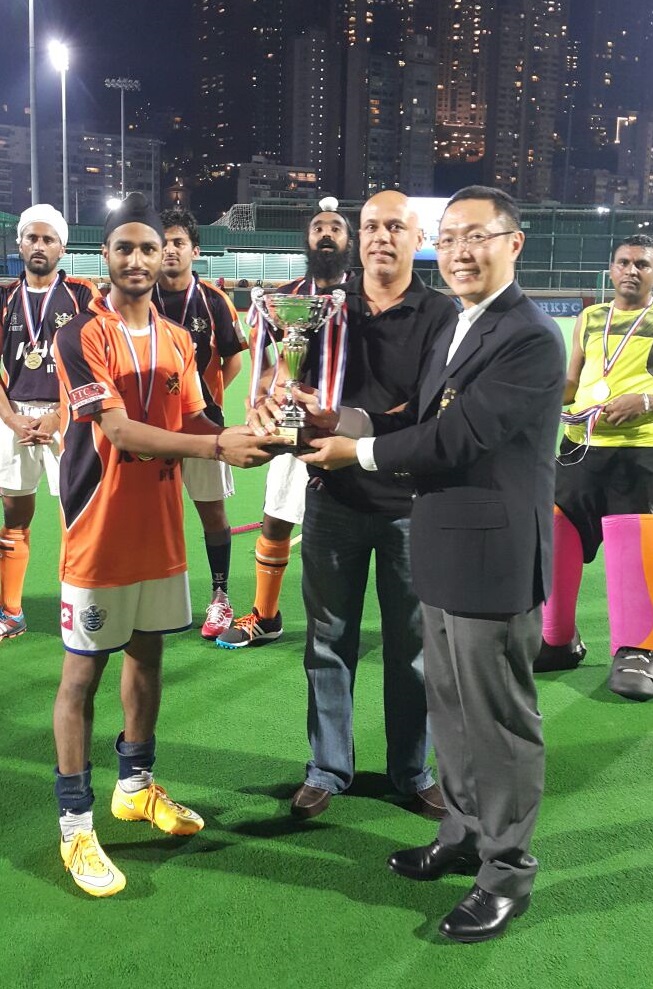 Mr. Richard Mak, the Chairman of HKHAMS presenting the trophy to the winners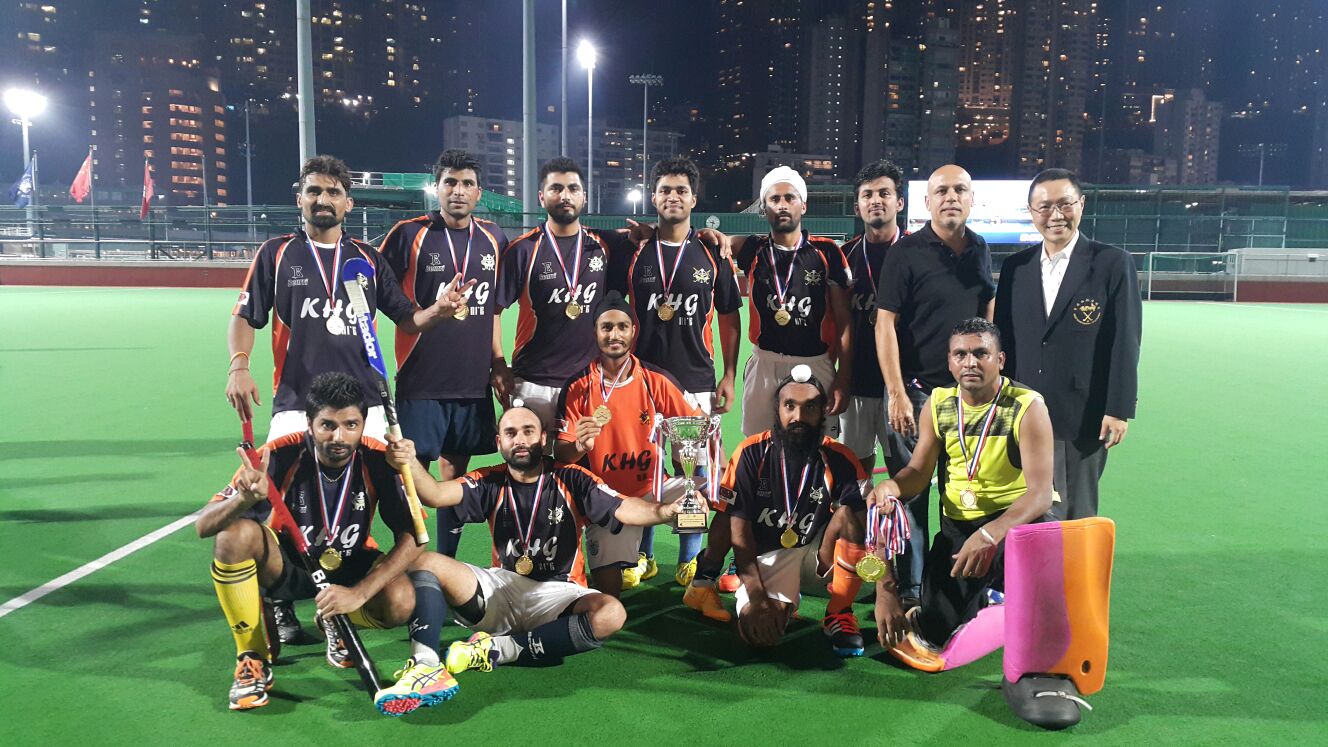 The Champions- SSSC A
Group photo of President's XI and SSSC A
The Hong Kong Hockey Association is happy to see many children try hockey on 30/8 Back to School Programme at Tseung Kwan O Park Central Shopping Centre! Many thanks to parents and chirdren of Tseung Kwan O district!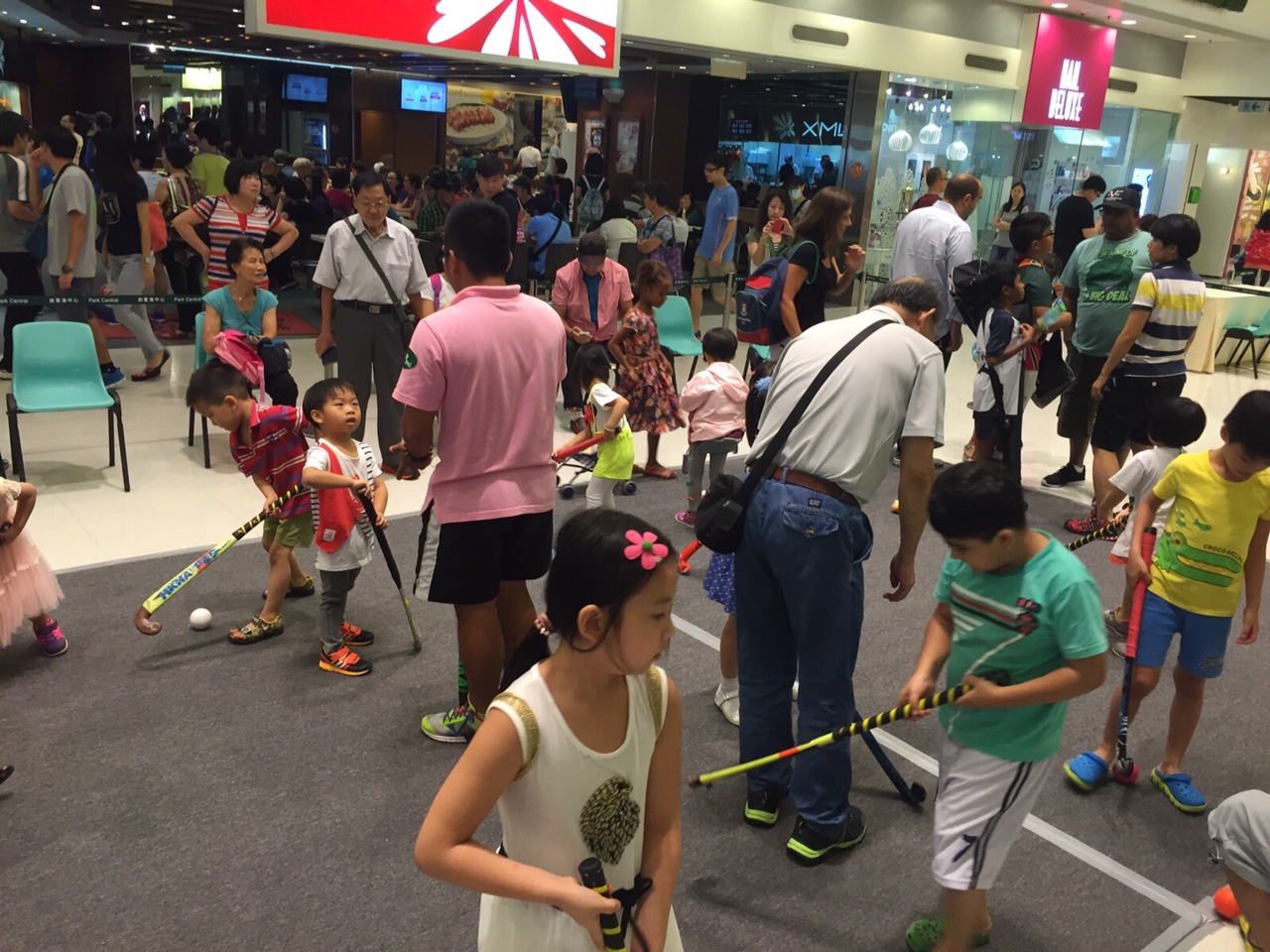 The HKHAWS Committee has decided to open the Junior Squad training from now until end of September to all players under 18 with HKSAR passport. The Squad will be training for preparation of the U18 AHF Cup with trial dates tentatively set at end of September.

Eligibility: HKSAR passport holders born on or after 1st January 1997

Open sessions will be:
Date: Sep 4 (Fri), Sep 7 (Mon), Sep 11 (Fri), Sep 14 (Mon), Sep 18 (Fri), Sep 21 (Mon) and Sep 25 (Fri)
Time: 16:30-18:00
Venue: King's Park Hockey Ground
Coach in Charge: Ms. Jiu Wang

If there are eligible players in your club/school who you feel should be considered for the Junior Squad, please encourage them to attend as many sessions as possible.
Hereunder are the refresher courses details for season 2015/16:
| | | | | |
| --- | --- | --- | --- | --- |
| Date | Time | Venue | Language | Conductors |
| 20 Aug 2015 (Thu) | 19:00 – 21:00 | HKFC | English | Alfred Chan |
| 4 Sep 2015 (Fri) | 19:00 – 21:00 | King's Park | English | Billy Dillon |
| 7 Sep 2015 (Mon) | 19:00 - 21:00 | HKFC | English | Lyle Williams |
| 10 Sep 2015 (Thu) | 19:00 – 21:00 | KCC | English | Tony Cheung |
The Men's Section will host the Premier League Champion Challenge on September 11 to kick-off the 2015-16 Men's Winter League that will commence on September 13.
SSSC A, the champion of the Premier League in 2014-15, will play against the President Selection team which will comprise of the elite players from the rest of the Premier division teams invited by the HKHA. Please find below the details of the match.
Date: 11th September, 2015 (Friday)
Time: 8:00 pm
Venue: HKFC Hockey Stadium
Please come and support this season opener of the Men's League.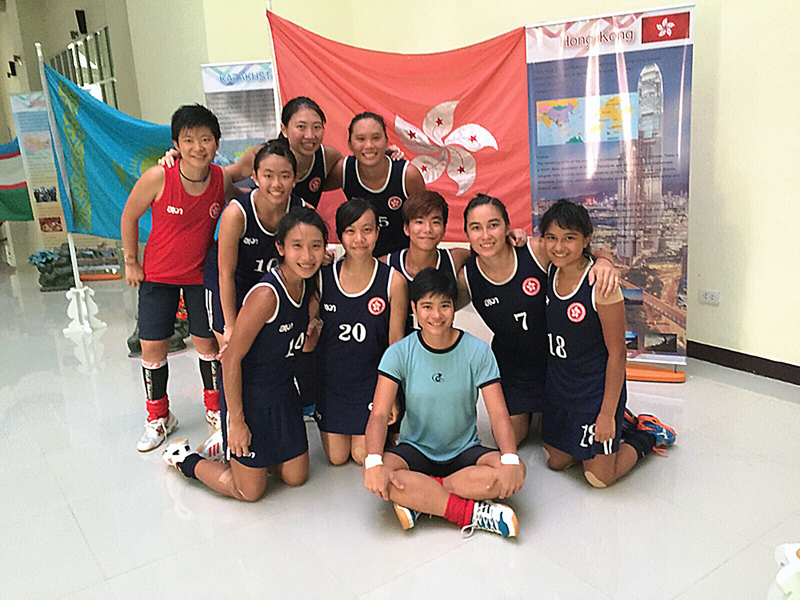 Hong Kong is making it's first debut in Women's Indoor Hockey at the 5th Women's Indoor Asia Cup in Thailand (12th - 16th August, 2015). The 2015 edition of the Indoor Asia Cup sees five nations battle for the continental title: Cambodia, Hong Kong China, Kazakhstan, Thailand and Uzbekistan.
Current Results
12th August, 2015
Hong Kong vs Thailand 0-2
Hong Kong vs Kazakhstan 1-5
13th August, 2015
Hong Kong vs Cambodia 12-0
Hong Kong will be playing Uzbekistan in the final pool match on 14th August, 2015.
Stayed tuned for more results and good luck Hong Kong!
The 5th Women's Indoor Asia Cup has commenced on 12 August 2015 in Nakon Ratchashima, Thailand. Participating teams are:
Cambodia
Hong Kong, China
Kazakhstan
Thailand
Uzbekistan
For team list, fixtures and match reports, please visit the link below:

Organized by The Hong Kong Hockey Association & Subvented by Leisure and Cultural Servises Department, Hockey Training Course for Adults 2015/2016 will start in September.
**Hockey Training Course for Adults Beginner 1 & 2- FULL
**Hockey Training Course for Adults Intermediate 1 - FULL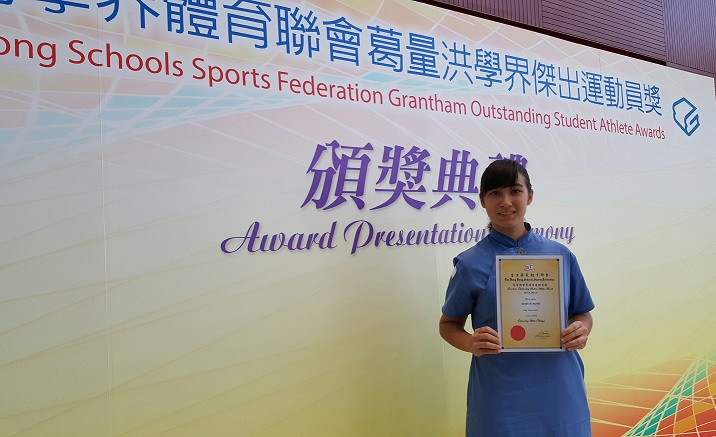 With profound sadness, the Association announce that former Hong Kong international player Gurvinder Singh Dillon passed away last Sunday on 21 June at the age 34 after battling illness over the last few years. Gurvinder represented Hong Kong in Asia Cup in 1999, 2003 and 2007, Asian Games in 2006, Asian Indoor Games 2007, AHF Cup 2008 and finally retired as player in 2010. He then took on coaching the development of junior players and was appointed as coach of the HK U21 squad in 2011. A funeral service will be held at the Sikh Temple at 1:30pm on 24 June Wednesday. Our deepest condolences to Gurvinder's family.
Application Form (English Version)
*Children Hockey Course 2A & 2B - FULL
**Children Hockey Course 4B - FULL

The HKHA Council is pleased to announce that Mr. Roger Nissim and Mr. Patrick Purnell-Edwards have been awarded the title as Honorary Life Vice President of the Hong Kong Hockey Association in recognition of their service and support to hockey in Hong Kong.
Mr. Nissim served as the Chairman of the Veterans' Section in the 1990s and was later elected as the President of the Association from 2002 to 2006. Mr. Nissim also served as a member of the Disciplinary Committee.
Mr. Purnell-Edward served in the Veterans' Section and later took up as the Chairman of the Disciplinary Committee from 2007 to 2014.
Please note that Umpire Section have a facebook page and you can get the latest news and notices regading the US.