Come Try It! Free trial session for children!
Date: 27th September, 2014 (Saturday)
Time: 12:30pm – 2:00pm
Venue: King's Park Hockey Ground
Age: 4-12
Entry Fee: FREE

This session is to introduce Field Hockey and conduct a Field Hockey Free Trial for the members of the TVB Network Vision Gorilla Club and the public on Saturday, 27th Sep, 2014.
Hockey is a fun sport and is played by all ages in Hong Kong. On 27th Sep, a trial session is open to the public at the venue and children aged 4-12 are welcome to try out the fun of mini hockey.
Objectives of Trial Session:
1. To introduce field hockey to the members of the TVB Network Vision Gorilla Club and the public.
2. To promote Field Hockey and have fun
3. To teach the basic skills needed and experience participation in a mini game
Pre-registration is required on a first-come-first-serve basis. Please contact Mr. Peter Cheung at 2782 4932 for further information.
HKHA Promotion & Development Section will launch a FIH Level 2 Coaching Course 2014-2015 in October for those who interested in enhancing his knowledge in coaching. The date of the coaching course will be from 8th October,2014 (Wed) to 12th October,2014 (Sun). The course conductor is Mr. Lim Chiow Chuan (FIH Coach).
If you are interested in attending, please kindly refer to the attached application form. The application deadline will be on 30 September 2014. Should you have any enquiry, please feel free to contact Peter Cheung via email: petercheung@hockey.org.hk or telephone: 2782 4932.
We will host one last refresher course later this month and if any qualified umpires whom have not attended a refresher course yet, this will be your last chance to get register to umpire this season. Please kindly arrive on time.
Refresher Course 14-15
| | | | | |
| --- | --- | --- | --- | --- |
| Date | Time | Venue | Language | Conductor |
| 23 Sep 2014 (Tue) | 19:30 – 21:30 | HKFC | English | Lyle Williams |
This is a warm reminder that the Beginner Course will be held on 18 Sep 2014 (Thu) at KPHG Conference Room. Details hereunder for your attention.
Beginner Course 14-15
Date

Time

Venue

Language

Conductor

18 Sep 2014 (Thu)

19:30 – 21:30

King's Park


Cantonese

Kitty Yau

24 Sep 2014

(Wed)

19:30 - 21:30

HKFC

English

Lyle Williams
The HKHA Council is pleased to announce that Mr. Roger Nissim and Mr. Patrick Purnell-Edwards have been awarded the title as Honorary Life Vice President of the Hong Kong Hockey Association in recognition of their service and support to hockey in Hong Kong.
Mr. Nissim served as the Chairman of the Veterans' Section in the 1990s and was later elected as the President of the Association from 2002 to 2006. Mr. Nissim also served as a member of the Disciplinary Committee.
Mr. Purnell-Edward served in the Veterans' Section and later took up as the Chairman of the Disciplinary Committee from 2007 to 2014.
Please note that Umpire Section have a facebook page and you can get the latest news and notices regading the US.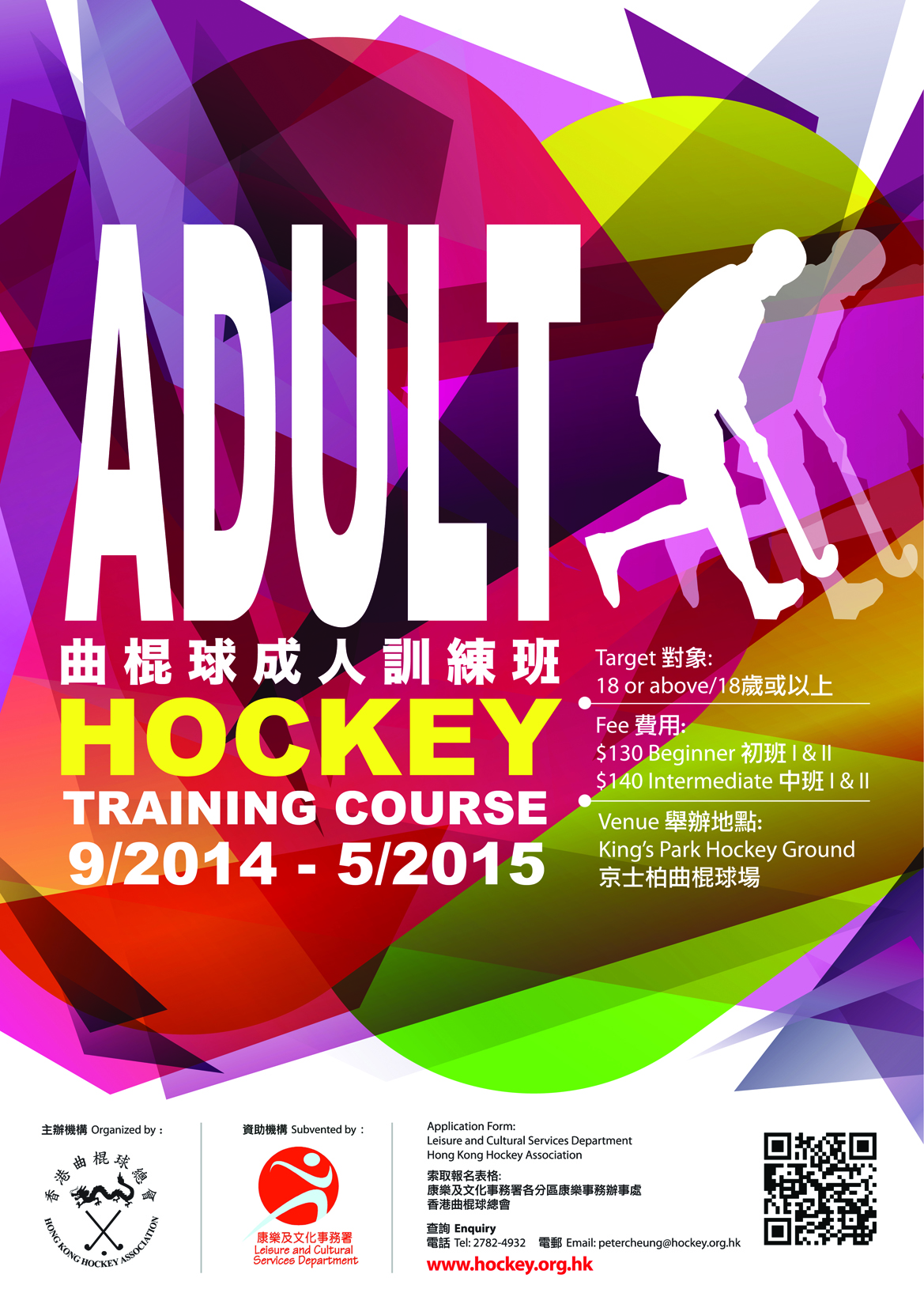 Organized by Hong Kong Hockey Association & Subvented by Leisure and Cultural Servises Department, the Adult Hockey Training Course 2014/2015 will start in September.
Enrolment:
Please complete the application form below and send it with a cheque (payable to "Hong Kong Hockey Association - P&D Section"), with your name and class on the back; to: Hong Kong Hockey Association (Attention: Peter Cheung), 1/F, Administration Block, King's Park Hockey Ground, 6 Wylie Road, Kowloon.
Beginner Course 1 & 2
Beginner Course 1 - FULL

Intermediate Course 1 & 2


The reigning champion Chinese Taipei had a scary start and was one goal down just inside the first minute. But as soon as the second half began, they engineered an amazing comeback, scoring three goals and sealed the victory.
A mistake prone Hong Kong, China defense gave too many balls away to Singapore. The latter was clinical in front of goal and smashed the local team 10-0.
Although Hong Kong, China started the game with much intensity, it was Chinese Taipei which took the victory. The reigning champion beat Hong Kong, China 1-0 today and recorded the second win in as many matches of the tournament, after defeating Singaopore 2-1 yesterday.
Chinese Taipei started the match with much purpose and penetration in the Singapore half, scoring in the 8th minute. In the middle of the first half, they scored again and the score carried on for most part of the game until Singapore got one back in the dying minutes of the match.
Hong Kong is proud to host this regional tournament from August 2nd to August 6th. This is an U21 championship. Teams will compete for top two places in the tournament in order to qualify for the Junior Asia Cup to be held next year.
The Association is pleased to announce that Hong Kong lady umpire Debby Tang has just received her International Umpire's Badge from FIH.

Debby's recent appointments included the World League in Singapore and the East Asian Games in China.

Many congratulations to Debby!
The Mini & Junior Hockey Promotion Scheme 2014/2015 is now open enrollment. There are 5 phases in the scheme. Students can start by participate in our Sports For All Day (21/7/2014) - a one day free trail which allows students to enjoy the fun of playing hockey. Afterwards studetns will take part in the training courses which covers different hockey skills for beginner, intermediate and advanced levels for students. After that students will take challenge of a 6-a-side tournament. Capacity is limited so act now. Attached herewith the course schedule and application form.
Application Form (English Version)